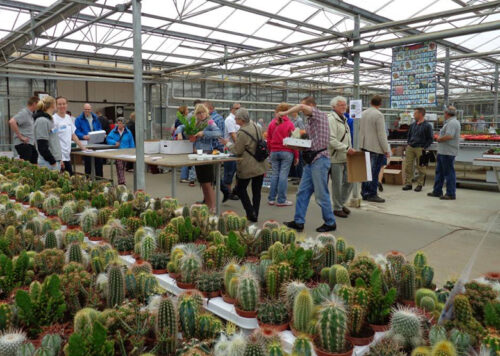 Open day
We organize an open day on the first Saturday of June every year. The next open day is subject to change on June 5 in 2021.
It's possible to view and buy cacti and succulents between 9 am and 4 pm. You can also go this day for good cactus soil, fertilizer and pots. A large number of our employees are present and they continue their normal activities. You can ask them all your questions.
In addition to the open day, part of the company is set up as a trade fair. This exhibition is organized by a numer of departments of 'Succulenta'. Lovers of cacti and succulents will have the opportunity to buy special plants for reasonable prices.
In the shed, where orders are normally prepared for transport, is an opportunity to drink a cup of coffe/tea or a glass of lemonade (free) and where a sandwich can be bougt. The rest of the year you can go to garden centers and a number of flower shops for cacti and succulents.